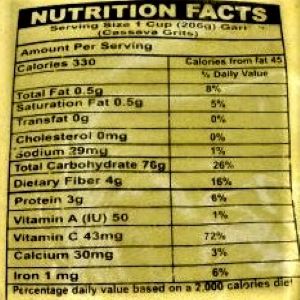 MiGOLD EBA YELLOW GARI – USP
FDA APPROVED.
CRISPY FRESH TASTE.
PREMIUM QUALITY BRAND.
NO ADDED SUGAR, NO PRESERVATIVES OR ADDITIVES.
NO ARTIFICIAL COLOUR: THE YELLOW COLOUR IS NATURAL OCCURING COLOUR FROM THE BETA/ALPHA-CAROTENE AND VITAMIN E IN THE PALM OIL, WHICH IS ADDED.
HEAT-SEALED SILVER FOIL PACKAGING TO MAINTAIN FRESHNESS AND TAMPER-PROOF THE PRODUCT (FOOD SAFETY).
PROBIOTIC PROPERTIES: AS A FERMENTED FOOD PRODUCT WITH DIETARY FIBER, IT AIDS IN DIGESTION. GOOD FOR THE GUT.
CONTAINS VITAMIN C- HELPS IMPROVES THE IMMUNE SYSTEM AND LOWER THE RISK OF OSTEOPOROSIS.
EYESIGHT IS IMPROVED BY VITAMIN A FROM PALM OIL.
AS A CARBOHYDRATE IT GIVES YOU ENERGY TO DO ANY WORK.
IT'S GLUTEN-FREE, SUITABLE FOR THOSE SENSITIVE TO GLUTEN IN WHEAT AND OTHER GRAINY PRODUCTS.
LOW FAT AND NO CHOLESTEROL: GOOD FOR LOWERING YOUR RISK OF CORONARY ARTERY DISEASE, GOOD FOR THE HEART.