MiGold Yellow Gari Sponge Cake recipe includes Gari as a key ingredient. Sponge cake is a light cake made with eggs, flour, and sugar that is sometimes leavened with baking powder. They are normally light and fluffy, but with the addition of gari to produce this sponge cake, it will be a bit heavy because Gari is dense by nature. If you mix the Gari well with the batter, you will obtain delightful soft, chewy pieces inside the sponge cake. It's tasty, with a hint of the light fermented taste of the gari within. Click for further information; https://eea-marketing.com/product-uses/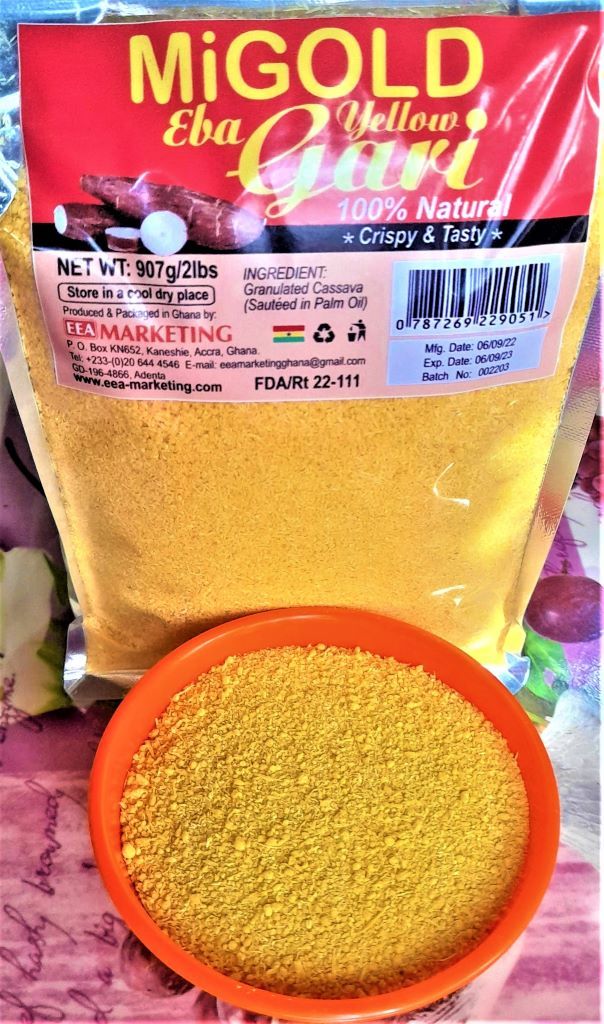 INGREDIENTS
3 cups all-purpose flour
1 cup MiGold Yellow Gari
4 eggs
2 teaspoon baking soda
2 teaspoon vanilla essence
1 1/2 cup powdered sugar
1 cup Butter
I cup Milk
Ground Nutmeg or Cinnamon
TIP: In a blender or food processor, grind the MiGold Yellow Gari until it resembles fine granulated sugar. Please do not grind it as finely as flour, or you will lose the gari texture inside the cake after baking. Prepare the Gari by adding about two tablespoons of water, or just enough water to make the Gari moist and fluffy after it swells up as a result of the water addition. This procedure only takes a few minutes.
STAGE 1: CREAM THE BUTTER & SUGAR, BLEND WITH BEATEN EGGS
Begin by combining the sugar and butter with a mixer. Using a hand whisker or a fork, whisk the eggs until light and fluffy. After that, add it to the beaten eggs and mix well. Continue to mix until the mixture is white and creamy.
STAGE 2: ADD THE FLOUR MIX AND BEATEN EGG TOGETHER
Sift the all-purpose flour and baking soda together. This is done to ensure that the baking soda is distributed evenly throughout the flour. Mix in the prepared MiGold Yellow Gari well with a Spatula. Gradually include this into the egg mixture. If necessary, add a little milk and continue to whisk until the batter is frothy and moist. If the consistency of your cake is fine and it drips down like thick yoghurt, you may not use all of the milk. Blend in the vanilla extract. Vanilla essence is essential for masking the smell of eggs and making the cake taste great. As a spice, try a pinch of nutmeg, cinnamon, or both.
STAGE 3: HOW TO BAKE THE CAKE
Now, lightly grease a baking pan for the cake with butter or cooking spray. Then dust with all-purpose flour. It prevents the cake from sticking to the pan. You can also line it with butter paper to make it easier to remove the cake after baking. Place the prepared cake batter in the prepared pan on the cooker's middle shelf. If using an electric oven, bake at 180°C for 30–35 minutes. For a fan-assisted oven, 160°C is fine. If not, then set it to 180°C–200°C for around 25–30 minutes.
STAGE 4: HOW TO FIND OUT IF THE CAKE IS COOKED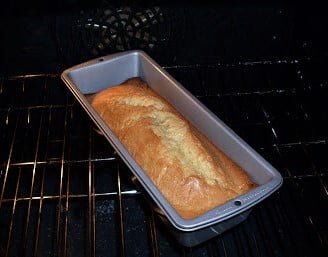 Test the MiGold Yellow Gari Sponge Cake, by inserting a knife or a metal skewer into the cake and remove it when it is clean. After removing from the oven, cool on a wire rack. Because the cake is still rather delicate and has yet to fully firm up, the cooling process guarantees that it does not fall apart. Once the cake has cooled sufficiently, turn the cake tin upside down to remove it.
Your decadent MiGold Yellow Gari Sponge Cake is now ready for consumption. It goes well with coffee, tea, and fine red wine. It can also be served with fruits and berries, whipped cream, ice cream, or warm custard on top.